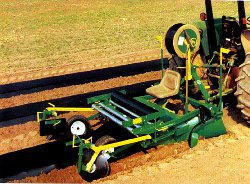 Rain-Flo's New Model 2550 & 2600 are raised bed plastic mulch layers that shape the bed and lay the mulch film in one pass. The New 2550 is adjustable to lay a flat or raised bed from 1" to 6" high. It uses 3' or 4' wide plastic. The 2600 is adjustable to shape a bed 4" to 8" high and can use 3', 4' or 5' wide mulch.
Both models are adjustable for bed height and bed width and include a poly lined bed press pan and the new quick change double roll mulch film carrier and a rear cushion seat.

Optional equipment includes the new Ro-Trak hydraulic counter sway system for better mulch laying, a single or double line drip irrigation attachment, front prebedding discs for clay soil, a 1" crowning bed press pan, and a John Deere 400# granular fertilizer attachment or a 300# MaterMacc dry fertilizer attachment with a 12 volt electric drive. It takes about 10 HP per inch of bed height on conventional tractors with 16" wide rear tires. Both models are available as one, two or three bed mulch layers.