Model 1600

$3,000.00

Pull Type

$400.00

Extra Wheels

$140.00

Top Tank Tray

$130.00

Other Options Available
Standard Wheel Spacings

12"- 15"- 18"- 24"

30"- 36"- 42"- 48"- 60"

The Rain-Flo Water Wheel Planters are the lowest priced plastic mulch transplanters available due to their simple design. They have a punch wheel that punches through the plastic and fills it with water, eroding the soil and making a mud hole. Plants are hand set into the hole by two operators riding low near the ground. As the plant is pushed in, mud from the bottom comes up along the sides and covers the top to complete the set. There is a side tank valve to wash your hands. There are four sloping plant racks that feed the trays to the operators. The spikes on the punch wheels are welded to the in-row spacing desired and can not be changed. The in-row plant spacing is adjusted by changing the punch wheel.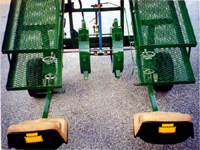 The stainless steel axle makes punch wheel changes easy. They can plant pots or plugs up to 3" in diameter with the large spike. Larger and smaller spikes are also available to match the plug size being used. Two punch wheels can be mounted to plant two rows 8" to 36" apart in one bed of plastic mulch. Row spacing adjusts easy with clear span axle that is now standard. Extra planting wheels and seats can be added to plant up to four rows on a bed of plastic. The extra seats can be placed behind the original ones to seat more operators. Water Wheel Transplanters are the only mulch planters able to set bare root plants through plastic mulch, including strawberries. Three point hitch mounted transplanters require 55 hp tractors to carry the 2,000 pound loaded transport weight. A pull type planter is available for smaller tractors. Water Wheel Planters are not recommended for planting on bare soil unless the soil is very sandy.